ZONSAN 6-Port Desktop USB Charging Station

Most of us have more than one device that charges via USB: tablets, smartphones, external battery packs, portable speakers, Bluetooth headphones and headsets. And there's a good chance you'll regularly need to charge two (or more) of those devices at the same time. That's where multiple ports USB charger come in - they take up only a single outlet yet provide the capability to charge a number of devices simultaneously.

Multiport chargers are also great for travel. Instead of having to pack a gaggle of chargers for the family or when traveling alone, for your phone, tablet, headset, and Bluetooth speaker - you can bring one charger that handles everything.

USB Ports: 6 ports
Maximum output power: 60W
Input: AC100-240V(50-60HZ) 1.5A Max
Output 1-4 port: 5V/2.4 max (Smart IC)
QC 3.0 Port: 5V/3A; 9V/2A; 12V/1.5A
Color: White, Black
Plug type: EU.US.KR.AU.UK,IN
Certificates: CE KC CB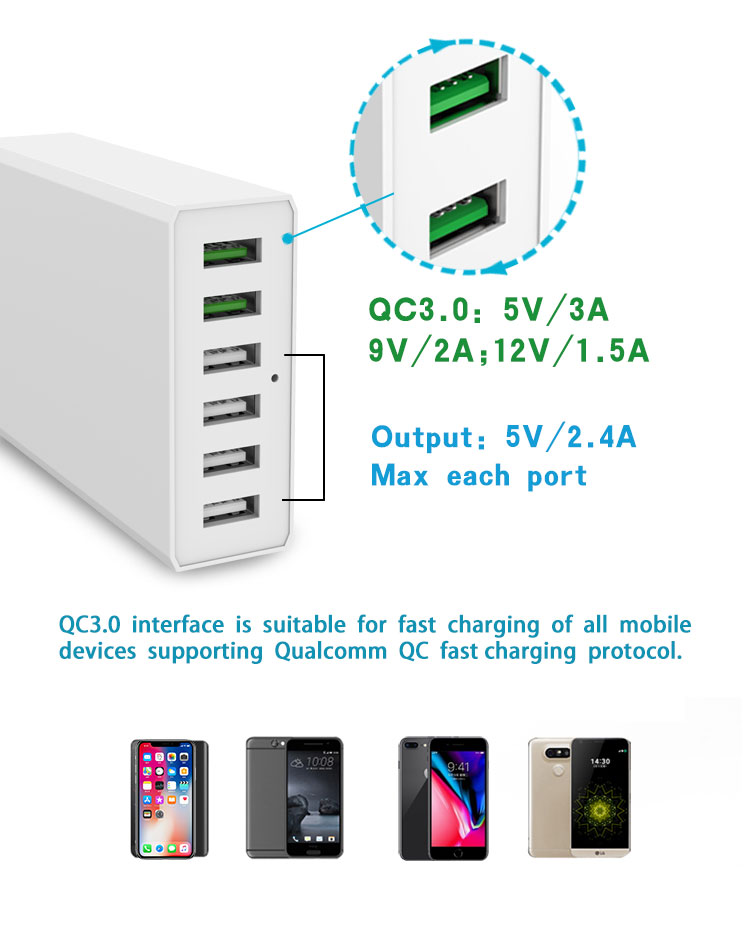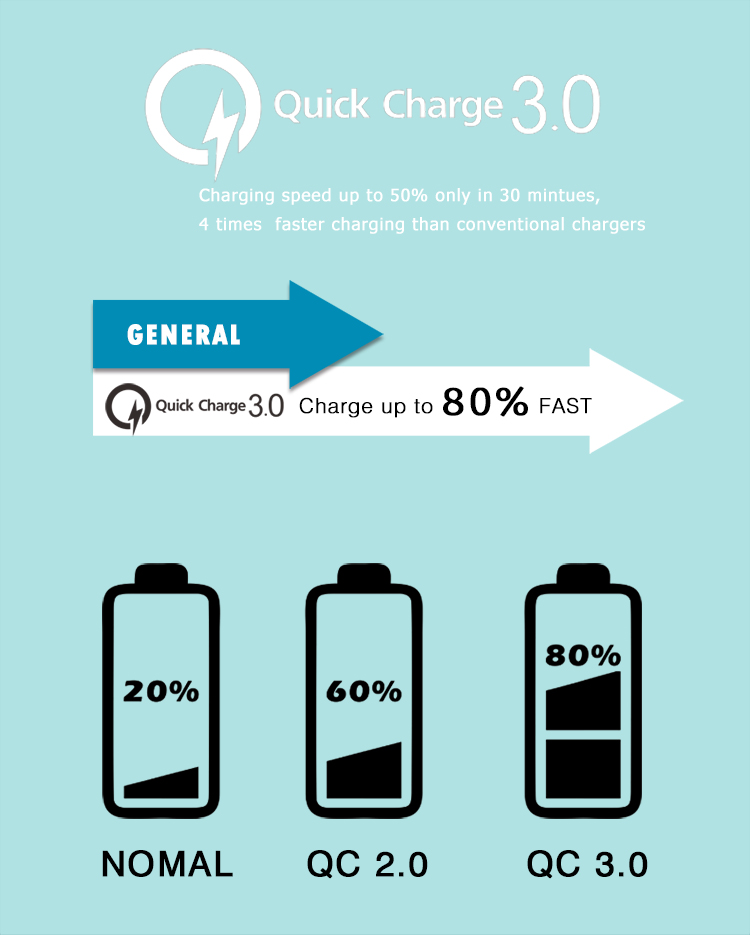 Change the way you charge with Qualcomm Quick Charge 3.0
Smart USB charging ports (white):
Featuring 24W of 4-ports USB charging power, with up to 2.4A/12W per port, this charger is capable of simultaneously charging multiple power-hungry devices.

Qualcomm Quick Charge 3.0 (green):
4X faster charging speed than other regular chargers. An algorithm engineered technology can determine what power level to request at any point in time, which allows for optimum power transfer while maximizing efficiency.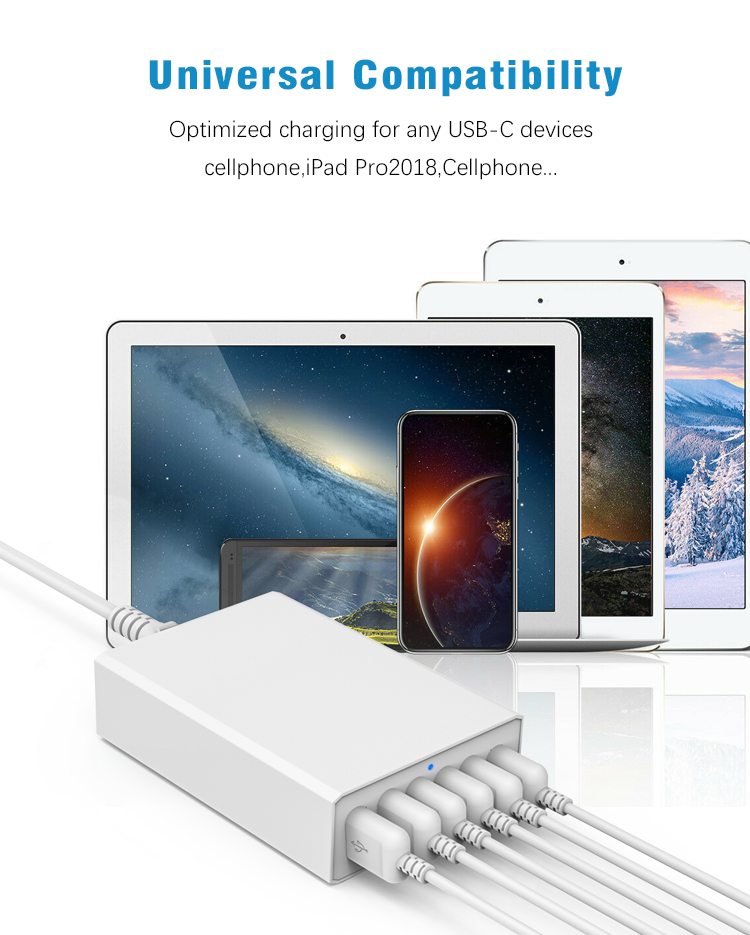 Family-Sized Charging Station
Compact pocket size desktop charger is designated for travel and indoor uses.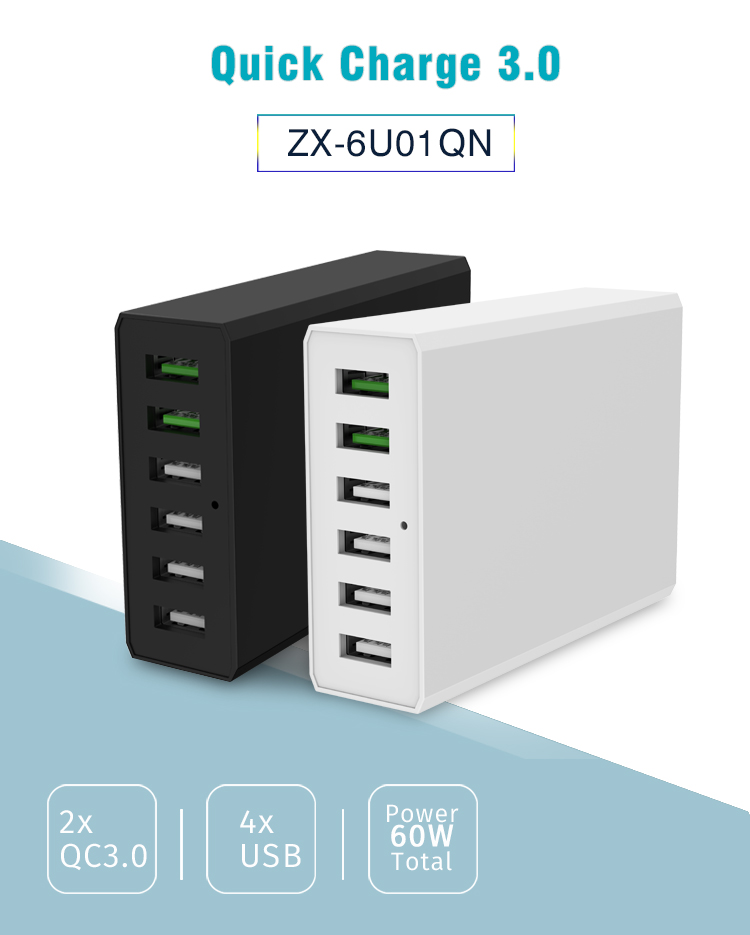 Wide Compatibility
Multi Use Charger charges all your phones, tablets and other devices simultaneously; extremely rapid charger that stabilizes power by utilizing cutting edge technology.