This charger 20w usb-c power adapter for apple 100% match and well fast charging for iPhone12 series, the designed for iPhone user firstly, but at same time our R&D team also considering other brand phone user and different charging slot required, we wish bring more convenient products and life style for user,also same aim as APPLE "environmental protection;" , so we wish a usb phone charger contians type-c and usb a slot in one ,then our 20w usb wall charger came out perfertly. It's mini and lighty ,easy pocket carry as a travel adapter or home charger required,also widely compatible with Apple productsl ike iPhone 12 Mini/12/12 Pro/12 Pro Max, iPhone 11, iPhone 8 Plus, iPad Pro, AirPods Pro. About this 20w usbc power adapter when using type-c slot,the max power is 20w, when using usb-a qc3.0 slot,the max power is 18w,even charging 2 phones or devices at same time still high speed for save our time . anyway, as a necessary accesories of mobile phone, this smart phone charger is convenient and deserved to have.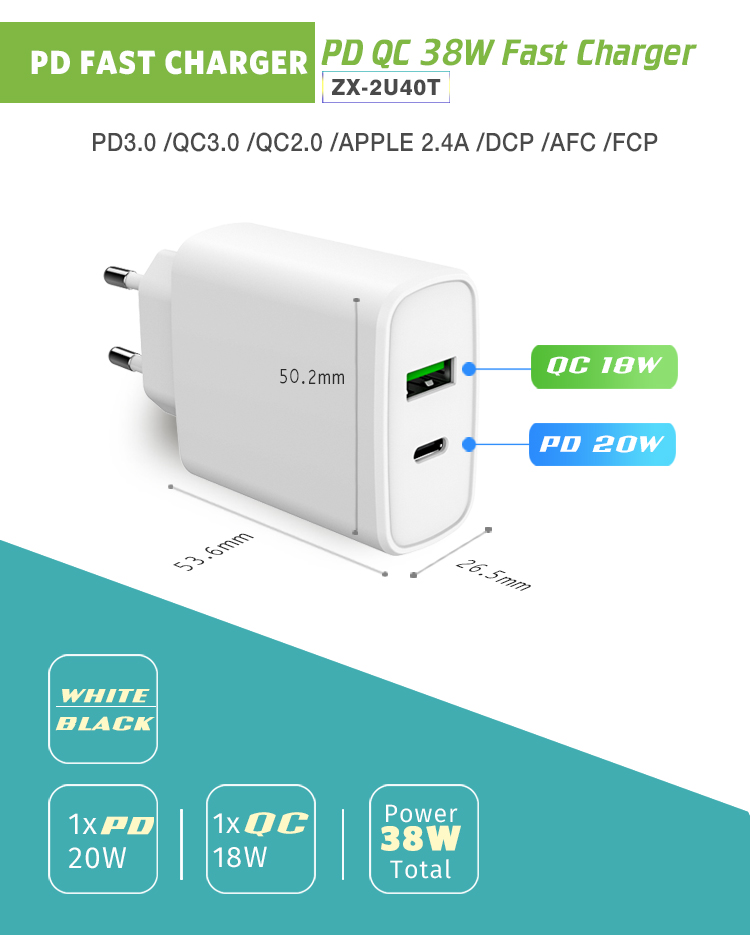 support fast charing differenct devices according the IC agreetment as below:
PD:Apple2.4A,DCP5V/1.5A,QC2-9V-12V,QC3.0,AFC9V,FCP9V/2A,SCP4.5V/5A;
PD3.0(5V2.4A、9V2.22A、12V1.5A)
QC:Apple2.4A,DCP5V/1.5A,QC2-9V-12V,QC3.0,AFC9V,FCP9V/2A
Input:100-240V 50/60Hz 1.2A
Power: 38W Total
Output PD: 5V3A/ 9V2.22A/ 12V1.67A (20W)
Output QC: 5V/3A 9V2A 12V1.5A (18W)
Size: 53.6x50.2x26.5mm
Color: White / Black
Plug: EU/US/KR
Weight:82g
Certificate:ITS: CE ROHS CB ERP, KC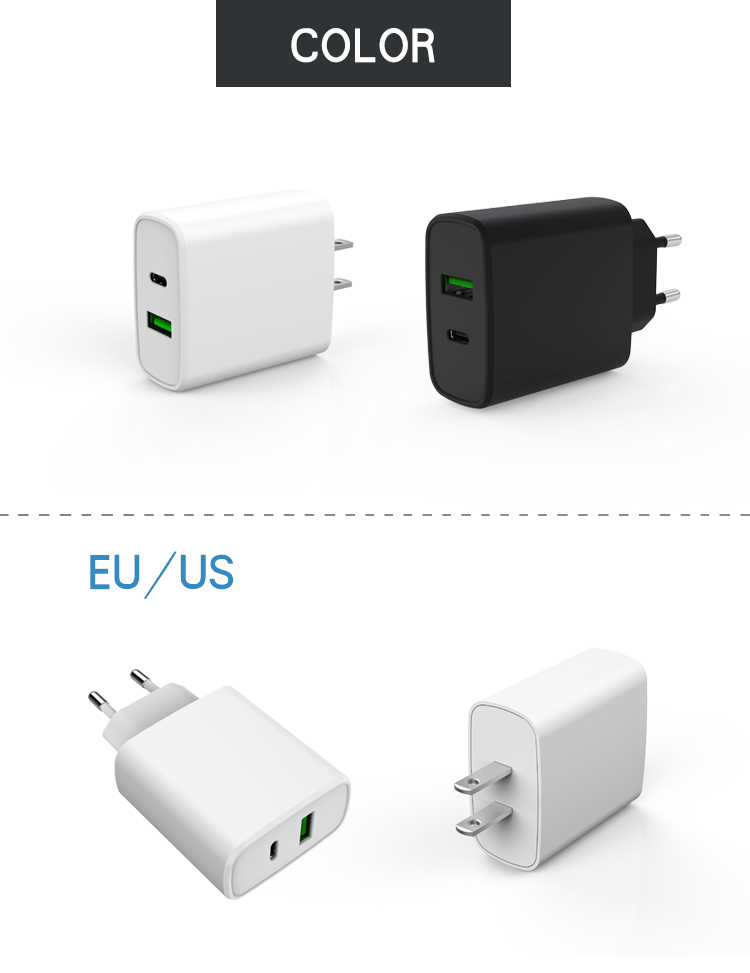 classical color white and black and us plug ,eu plug ,kr plug for option ,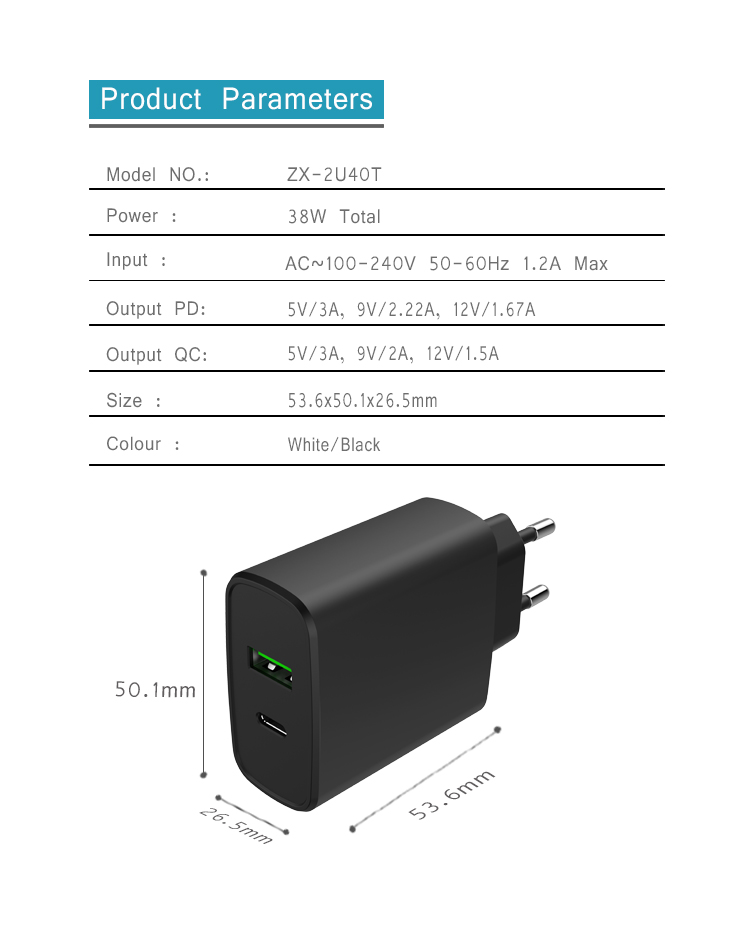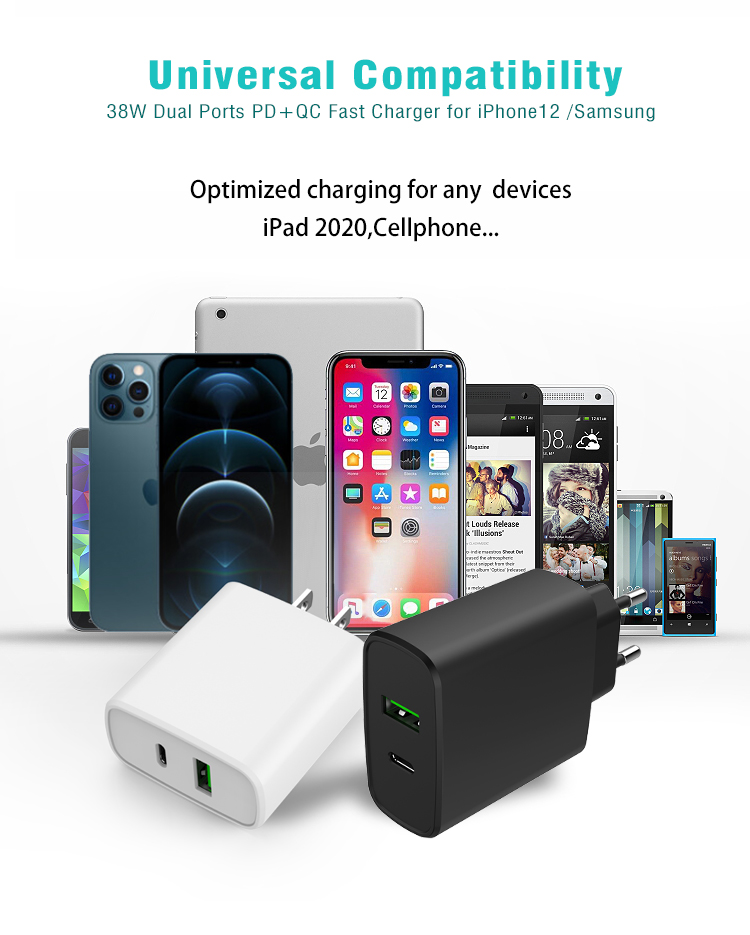 38W USB A and C Wall Charger Fast 2 Port USB Plug
Compatible With:
iPhone 12,12 mini, 12 Pro Max,11, 11 Pro Max, Xs, XR, Xs Max, SE, 8, 8 Plus, 7 Plus, 6, 6S, 6 Plus, 5S
Samsung Galaxy S21+,S21 Ultra,S20 Ultra ,S20 FE,S10,S10 Plus,S10e,S8 Plus,S8,Galaxy S9,S9 Plus, S8 Active
Samsung Galaxy Note 21,20 Ultra,Note 10 +,Note 8,Note 9 , Galaxy C9 Pro,C7 Pro,C5 Pro,Galaxy A7,A5,A3
Samsung Galaxy A01, A11,A12, A10e, A20, A20s, A21, A30,A32, A30s, A40,A42, A40s, A5 2017
Samsung Galaxy A50, A50s, A51 5G, A52, F52 5G, A60, A62,A72, A70, A70s, A71 5G,A80,A8s,A81,A90,A91,A9s
Moto X4,Moto Z2 Play,Moto Z,Z Force,G Power,G Stylus, G9,G8,G7 Play, G9,G8,G7,G6 Plus, G8,G7 Power
Google Pixel 6,5,5XL,5A, Pixel 4,4XL,4A,Pixel 3,3xl,3A,Pixel 2, 2 XL,Pixel C,Google Nexus 5X , 6P
LG Stylo 6,5,4 G9,G8 G7 thinq, G6,G5,V30,V20,V35,V40,V50S,V60
LG Q8, Q7, Q7+,Q61, Q92 5G,LG G7 One,G7 ThinQ,G7 Fit, G8, G8X/ G8 ThinQ, G8S ThinQ,G9
LG G6+, K51, K52, K41S, K50S,K51s, K61, K62, K71,K92,K71,LG Velvet,LG Wing
HTC U11 Ultra,U Play,HTC 10;
One Plus 8, 7, 6, 5, 7-Pro, 6T, 5T, 5, 3T, HTC, Blackberry, Nokia and more
Product Features:
1.Made of High quality fire proof material & anti-oxidation aluminum, effectively prevent the scratch.
2.Safe Fast Charging: With the intelligent chip inside, the PD wall charger matches the current as your device's need automatically!
Built-in multi protection effectively protects your device from over-voltage, over-current and short-circuit, ensuring you safer charging overnight.
3.Charge faster: Supports PD fast charging with maximum power up to 20W to charge faster and in less time.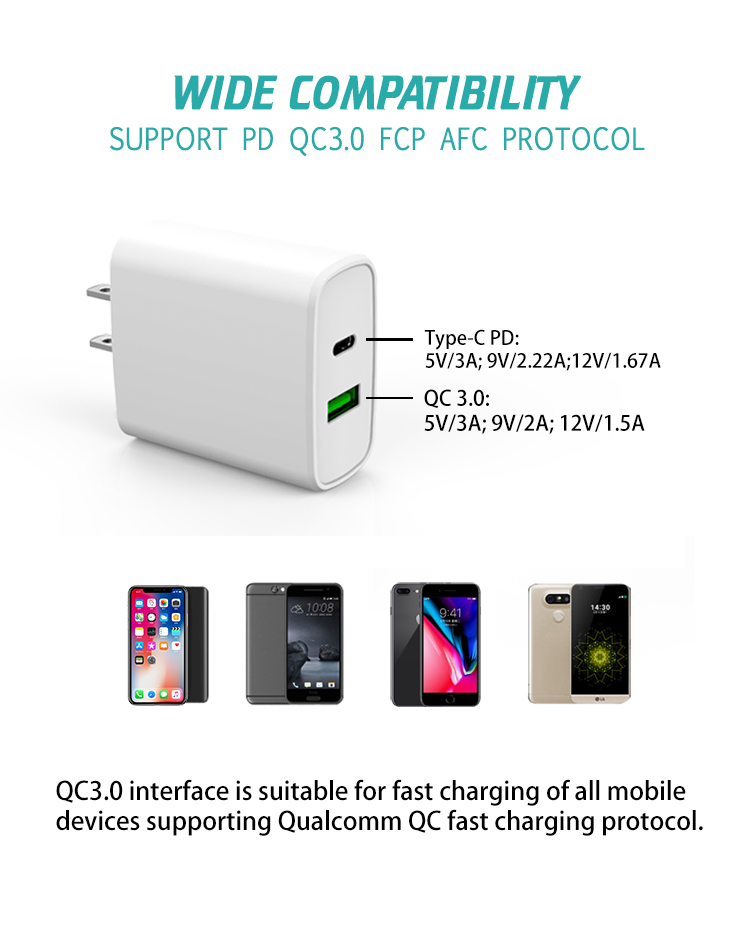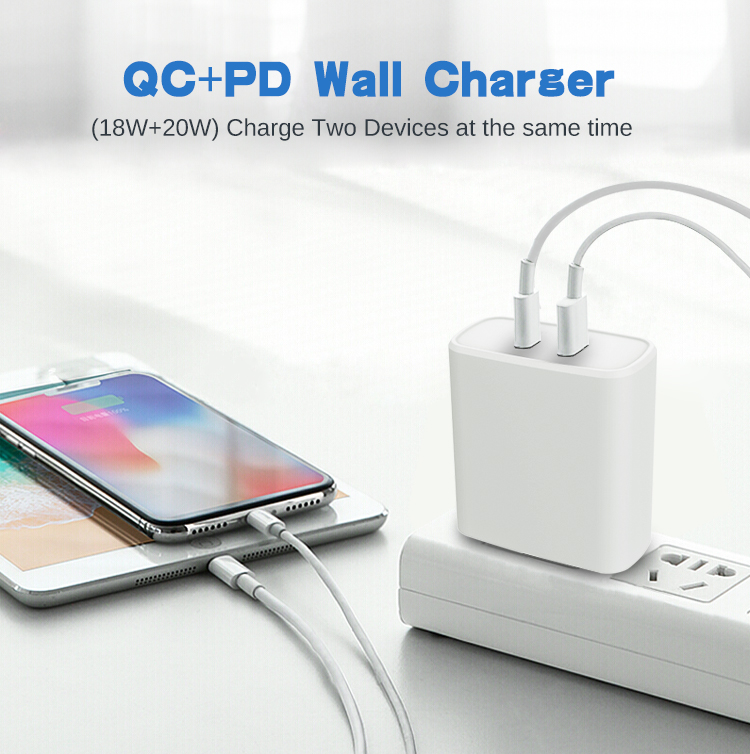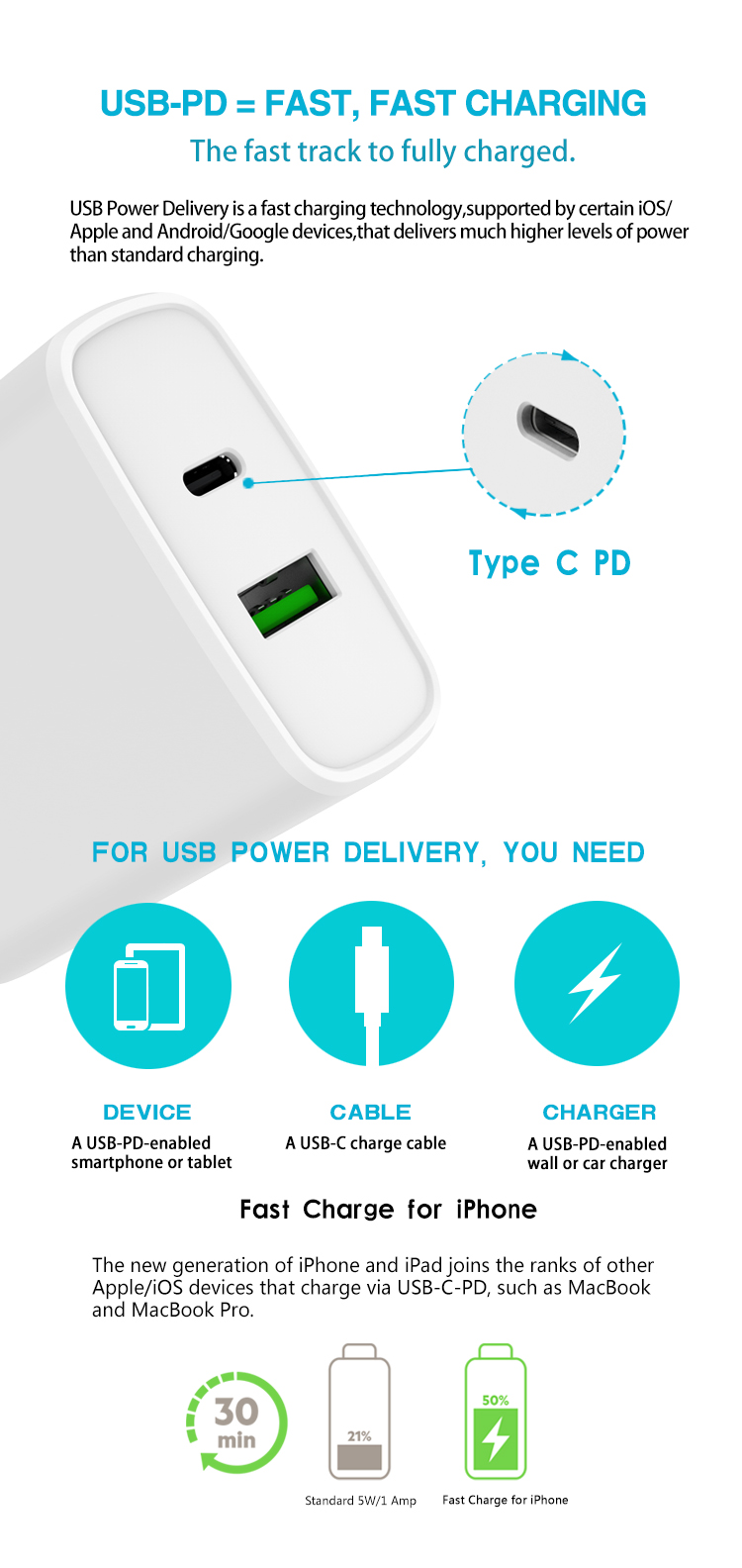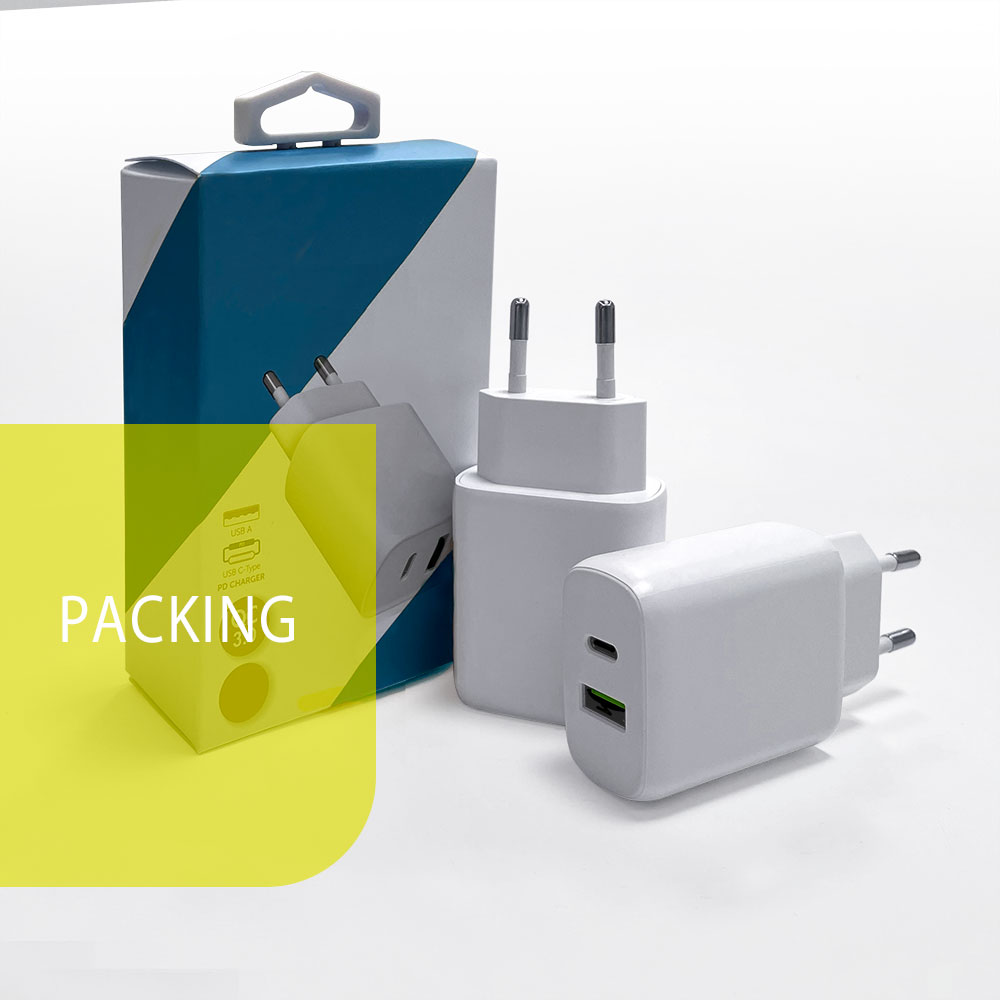 customized packakge as your requirements.